Hi there,
I'm running Owncloud 10.3.2 on Ubuntu 18.0.3 LTS which was running fine.
Everything worked fine till I activated SSL recently… now I have the issue that menue icons are not shown anymore.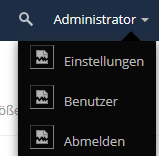 I think something in my apache or oc config is wrong just can't figure out what it is…
Server configuration
Operating system: Ubuntu 18.04.3 LTS
**PHP version:7.3
**Webserver version: Apache/2.4.41
**ownCloud version: 10.3.2
**Updated from an older ownCloud or fresh install: fresh install
**Where did you install ownCloud from: latest tar package
I hope I provided all necessary infromation!
thanks!