Hello everybody,
today we have released the 2.17 beta version of the ownCloud app for Android.
Which features of 2.17 beta can I test?
This beta includes some visual improvements, but the most important changes are under the hood. So, it would be very helpful for us if you test the whole login process with OAuth2 and OIDC.
Toolbar redesign
We have included some changes in the toolbar. When you are in the top-level hierarchy, you will see a different toolbar with an avatar embedded. If you click this avatar, you will be moved to the account management screen. That way, you can switch between your accounts in an easier way.
On the left, we can see the previous behavior (v2.16), and on the right the new one (v2.17 beta1)
In addition, some changes were done in the uploads view. Now you will see a button to clear the whole category (for example, to clear every successful upload). Now, you will have the option to retry every failed upload using the retry button.
Thumbnails for every supported file type
From now on, we won't only show thumbnails for images, but also for every supported file type. For example, you can now see thumbnails for text files instead of the text icon. Check images on the top.
OAuth2 and OIDC improvements
Last year we applied several changes to authentication flow. In this beta, we have fixed some problems that were detected. For example, when you log in using OAuth2 and then, this authentication method is disabled.
It would be great if you can test the OAuth2 and OpenId Connect improvements, checking that you can log in to your account as expected, tokens are properly refreshed, etc.
If you still don't have a server using OIDC, you can use this demo server ocis.owncloud.works by using any of next credentials:
einstein:relativity
marie:radioactivity
Anything else to test?
Yes, we have included a crash fix related to the photos view. Additionally, we have fixed a problem when you share several files with ownCloud, leading them not to be fully uploaded. If you have detected any of these problems, please try them out and send us your feedback.
Read the whole Changelog in here.
How can I join the beta program?
If you want to join the beta program in PlayStore, you will need to have the last app version installed. If you already have the last version installed, go to ownCloud app in PlayStore and scroll down to the end of the view; there you will see a new tab like the one below, just press the I'M IN button to join and your final app will be replaced with the beta one.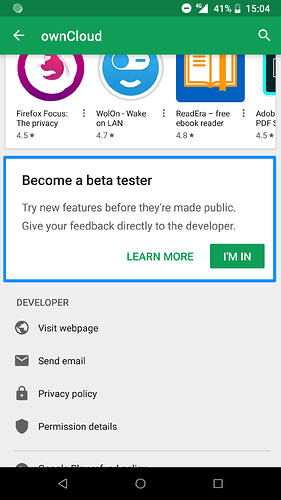 2.17 beta 1 will be also available in F-Droid soon.
How can I send my feedback to ownCloud developers?
If you find a bug or want to make any suggestion, please participate in one of these channels:
– Open a new issue on Github: https://github.com/owncloud/android/issues/
– Open a new topic on central: https://central.owncloud.org/
– Write to android-app@owncloud.com
Your feedback would be highly appreciated!