Hi there,
unfortunaltey I'm unable to use the OwnCloud client anymore since a few days.
There was no update or any change on the system.
When I try to connect with the client I'll get this error message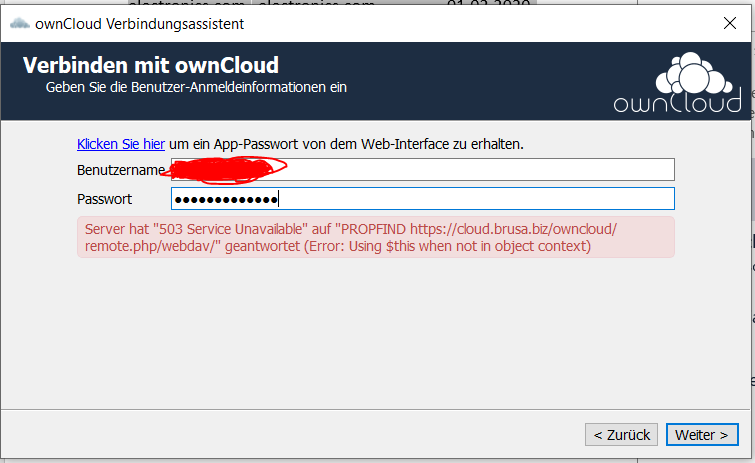 Below you will find the log of the server.
Btw. the weblogin works as usual.
Hopefully anyone of you already got this error and knows how to fix it.
Expected behaviour
Proper work of the OwnCloud client
Actual behaviour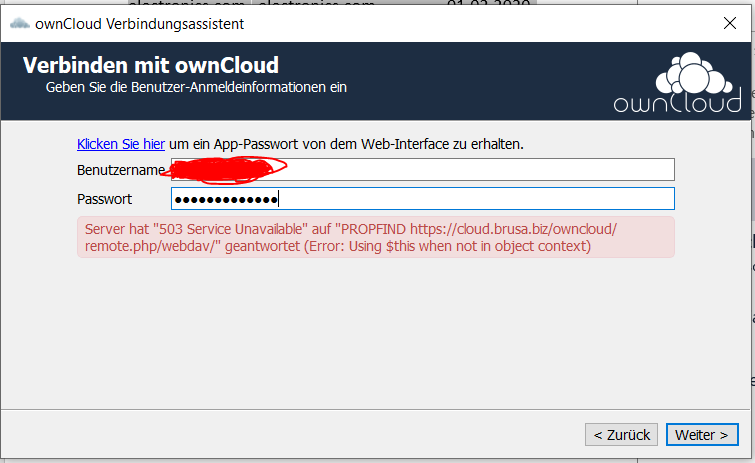 Steps to reproduce
I don't know.
Server configuration
Operating system: Univention distribution with an OwnCloud docker
ownCloud version: 10.2.1.4
Storage backend (external storage): local and CIFS to a windows file share
Client configuration
Client version: 2.6.0
Operating system: Windows 10
OS language: English
Logs
Server logfile: ownCloud log (data/owncloud.log):
{"reqId":"a328fff6-705c-47bf-a4f8-a903c3bdae8e","level":3,"time":"2019-12-09T10:26:56+00:00","remoteAddr":"172.17.42.1","user":"–","app":"PHP","method":"PROPFIND","url":"/owncloud/remote.php/webdav/","message":"Non-static method OCA\User_LDAP\Helper::loginName2UserName() should not be called statically at /var/www/owncloud/lib/private/legacy/hook.php#105"}
{"reqId":"a328fff6-705c-47bf-a4f8-a903c3bdae8e","level":4,"time":"2019-12-09T10:26:56+00:00","remoteAddr":"172.17.42.1","user":"–","app":"webdav","method":"PROPFIND","url":"/owncloud/remote.php/webdav/","message":"Exception: HTTP/1.1 503 Error: Using $this when not in object context: {"Exception":"Sabre\\DAV\\Exception\\ServiceUnavailable","Message":"Error: Using $this when not in object context","Code":0,"Trace":"#0 [internal function]: {closure}(Object(Sabre\\HTTP\\Request), Object(Sabre\\HTTP\\Response))\n#1 \/var\/www\/owncloud\/lib\/composer\/sabre\/event\/lib\/EventEmitterTrait.php(105): call_user_func_array(Object(Closure), Array)\n#2 \/var\/www\/owncloud\/lib\/composer\/sabre\/dav\/lib\/DAV\/Server.php(466): Sabre\\Event\\EventEmitter->emit('beforeMethod', Array)\n#3 \/var\/www\/owncloud\/lib\/composer\/sabre\/dav\/lib\/DAV\/Server.php(254): Sabre\\DAV\\Server->invokeMethod(Object(Sabre\\HTTP\\Request), Object(Sabre\\HTTP\\Response))\n#4 \/var\/www\/owncloud\/remote.php(70): Sabre\\DAV\\Server->exec()\n#5 \/var\/www\/owncloud\/remote.php(169): handleException(Object(Error))\n#6 {main}","File":"\/var\/www\/owncloud\/remote.php","Line":68}"}