Steps to reproduce
1.Public share is allowed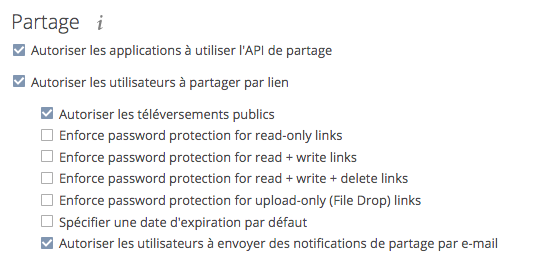 2. If I try to share a folder creating a public link, I obtain the normal window, with the choice of options on the level of sharing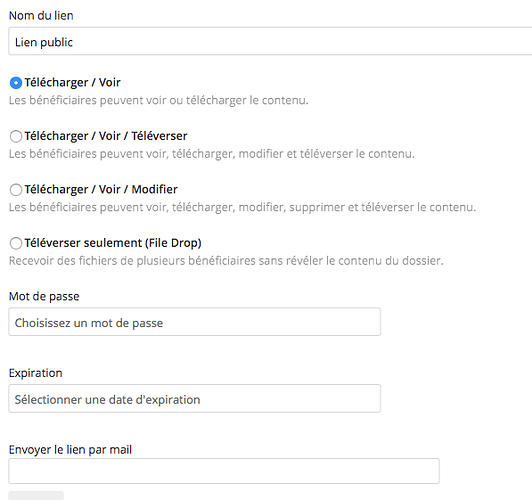 3.If I try to share a file, the opening windows shows a limited choice of option. Only "view and download" is shown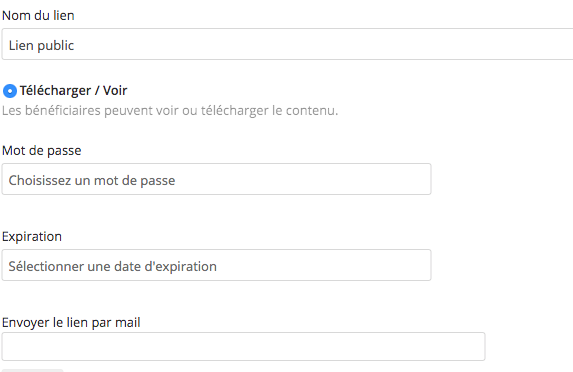 Expected behaviour
Sharing a file should propose the same options as sharing a folder.
Actual behaviour
The choice of options is limited for the creation of the public link of the file. The fact that the file is inside the shared folder do not change the behavior.
The link obtained in sharing the folder allows to open and edit the file. So the options are well applied to the file, but through the link of the folder containing the file.
Server configuration
Operating system:
Ubuntu 18.04
Web server:
Apache 2.4.29
Database:
Mysql 5.7.28
PHP version:
php 7.0.33
ownCloud version: (see ownCloud admin page)
Owncloud 10.3.2
Updated from an older ownCloud or fresh install:
regularly updated 2014
Where did you install ownCloud from:
from Owncloud
Signing status (ownCloud 9.0 and above):
"No errors have been found."
**The content of config/config.php:**
[Config report 2020 02 26.txt|attachment](upload://t9MUbYnmzsMoOnEgxr73y9T3Sh8.txt) (265.1 KB) 

List of activated apps:
Enabled:
comments: 0.3.0
configreport: 0.2.0
dav: 0.5.0
federatedfilesharing: 0.5.0
files: 1.5.2
files_external: 0.7.1
files_mediaviewer: 1.0.1
files_sharing: 0.12.0
files_trashbin: 0.9.1
files_versions: 1.3.0
market: 0.5.0
notifications: 0.5.0
onlyoffice: 4.1.3
provisioning_api: 0.5.0
systemtags: 0.3.0
updatenotification: 0.2.1
Disabled:
customgroups
encryption
external
federation
files_videoplayer
firstrunwizard
guests
oauth2
user_external
Are you using external storage, if yes which one: local/smb/sftp/…
No
Are you using encryption: yes/no
No
Are you using an external user-backend, if yes which one: LDAP/ActiveDirectory/Webdav/…
No
Client configuration
Browser:
Brave Version 1.3.115 Chromium: 80.0.3987.87 (Official Build) (64-bit)
Operating system:
Mac OS High Sierra 10.13.5
Logs
ownCloud log (data/owncloud.log)
Empty
Insert your ownCloud log here