We are happy to announce the immediate release of ownCloud Server 10.12.0 with tons of new features requested by our customers. For example, many of our enterprise customers coming from Sharepoint and now very happy with ownCloud have been asking for a version numbering scheme that aligns versioning closer to how Sharepoint handles major and minor versions of files. Thus ownCloud 10.12 brings "Persistent Major Versions". Apart from that, our new version also takes another step towards more security with PHP and upgrades to PHP 7.4, allows specifying individual login policies for guest users and brings a first version of Folder Upload via Drag and Drop.
Here's the details:
Persistent Versions - just like Sharepoint does!
Many of our former Sharepoint users know the feature of "major" versions of files. With Persistent Versions we are introducing a new option for the numbering scheme of your ownCloud versions (see the ownCloud Documentation). A user can now define a current version of a file as "major version" – which means this version is assigned a major version number, and all subsequent versions built on this file will have version number counting up from this major number. Per default, major versions will be exempt in cleaning rules (e.g. when saving space). This feature is not enabled by default, you need to enable it as described here: Config.php Parameters – and it's not available for S3 storage backends.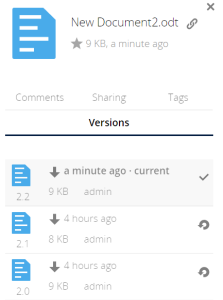 PHP 7.4 is now mandatory
As announced last year, ownCloud will provide a hardened and maintained version of PHP 7.4 (Announcement: ownCloud 10 and PHP Versions) to ensure security and continuous support for PHP 7.4. 10.12 is taking another step in this direction and will drop support for the deprecated PHP version 7.3. Please make sure to upgrade to PHP 7.4 and read the announcement for details.
Support for Login Policies
A feature that we integrated also upon frequent request is targeting the implementation of guest users. With our new support for login policies, you can make sure that guest users (or another group of users) can use basic auth (username/password combinations), while all other users are forced to login via a defined identity provider like OIDC (Open ID Connect). Demo users now are collected in a special group with separate login policies.
Drag & Drop folders into public file upload
Starting in 10.12. ownCloud also allows users to upload entire folders via Drag-and-Drop into a public link: Just drop a complete folder into the upload window of your browser and ownCloud will upload all the files in the folder. However, due to limitations of the public link upload workflow, the folder structure cannot be represented. On the server, the files actually inside the local folder (and sub-folders) will appear directly in the folder of the public link. Drag & Drop into the normal file view preserves the folder structure.
Updated App Versions
Additionally we are providing bugfixes for checksums and encryption features – upgrade now if you are using either of those features.
Solved Issues
All known issues from server 10.11 have been fixed. Currently there are no known issues with ownCloud Server 10.12. For more details, such as other notable changes, please read the full Release Notes :: ownCloud Documentation and our Server Changelog - ownCloud.