Steps to reproduce
User logged on web
User tries send some files (20)
Owncloud show error Cannot authenticate over ajax calls. User is out. Users needs log in.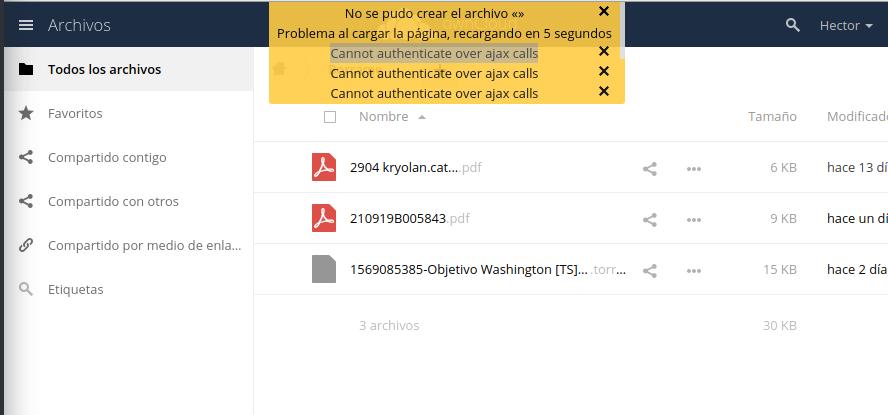 Expected behaviour
The user should not have problems
Actual behaviour
This is a simple test. The customer complaint comes from the web and from the apps. Many times clients and / or web users disconnect
Server configuration
Operating system:
Ubuntu 18.04.3 LTS updated
Web server:
Server version: Apache/2.4.29 (Ubuntu)
Database:
5.7.27-0ubuntu0.18.04.1
PHP version:
PHP 7.2.19-0ubuntu0.18.04.2
ownCloud version: (see ownCloud admin page)
10.2.1.4
Updated from an older ownCloud or fresh install:
Fresh from 10 (one year ~ working)
Where did you install ownCloud from:
apt-get
Login as admin user into your ownCloud and access 
http://example.com/index.php/settings/integrity/failed 
paste the results into https://gist.github.com/ and puth the link here.

No errors have been found.
The content of config/config.php:
{
    "system": {
        "updatechecker": false,
        "instanceid": "ocd7zqha1jjg",
        "passwordsalt": "***REMOVED SENSITIVE VALUE***",
        "secret": "***REMOVED SENSITIVE VALUE***",
        "trusted_domains": [
            "kvm494.avanzait.com"
        ],
        "datadirectory": "\/data",
        "overwrite.cli.url": "http:\/\/kvm494.avanzait.com",
        "dbtype": "mysql",
        "version": "10.2.1.4",
        "dbname": "owncloud",
        "dbhost": "localhost",
        "dbtableprefix": "oc_",
        "mysql.utf8mb4": true,
        "dbuser": "***REMOVED SENSITIVE VALUE***",
        "dbpassword": "***REMOVED SENSITIVE VALUE***",
        "logtimezone": "UTC",
        "installed": true,
        "filelocking.enabled": true,
        "memcache.locking": "\\OC\\Memcache\\Redis",
        "redis": {
            "host": "\/var\/run\/redis\/redis-server.sock",
            "port": 0,
            "timeout": 0,
            "dbindex": 0
        },
        "memcache.local": "\\OC\\Memcache\\APCu",
        "memcache.distributed": "\\OC\\Memcache\\Redis",
        "memcached_servers": [
            [
                "localhost",
                11211
            ]
        ],
        "mail_domain": "***REMOVED SENSITIVE VALUE***",
        "mail_from_address": "***REMOVED SENSITIVE VALUE***",
        "mail_smtpmode": "php",
        "theme": "",
        "loglevel": 2,
        "maintenance": false
    }
}


List of activated apps:
Enabled:
  - comments: 0.3.0
  - configreport: 0.2.0
  - dav: 0.4.0
  - federatedfilesharing: 0.4.0
  - federation: 0.1.0
  - files: 1.5.2
  - files_external: 0.7.1
  - files_sharing: 0.11.0
  - files_trashbin: 0.9.1
  - files_versions: 1.3.0
  - files_videoplayer: 0.10.1
  - firstrunwizard: 1.2.0
  - market: 0.5.0
  - notifications: 0.5.0
  - provisioning_api: 0.5.0
  - systemtags: 0.3.0
  - updatenotification: 0.2.1
Disabled:
  - encryption
  - external
  - user_external

Are you using encryption: no
Are you using an external user-backend, if yes which one: no
Client configuration
Browser:
Chrome Versión 77.0.3865.90 (Build oficial) (64 bits)
Fail also with Opera 63.0.3368.94
Operating system:
Ubuntu 18.04
Logs
Web server error log
Date time is newer that last errors…
Wed Sep 25 19:08:36 UTC 2019
https://paste.tamainut.info/view/999d2684
ownCloud log (data/owncloud.log)
Not log 0 bytes

Browser log